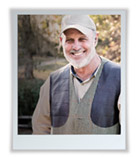 Skip Sheffield
Owner, Florida Class-A Certified Contractor
If you ask Skip Sheffield to talk about Skip Sheffield, more often than not the conversation shifts quickly to elegant styles of entryway columns or the pros and cons of crown molding used with floor-to-ceiling windows. He's just that enthusiastic about his craft: what he does is who he is.
But talk with people who have chosen and worked with Skip, and they'll tell you exactly how the personal and professional meld. You'll hear about the wealth of ideas he brings to the process; the exceptional integrity he and his entire crew exhibit; and a relentless adherence to schedule and budget—all resulting in a home that simply takes the breath away.
When Skip Sheffield started his business in 1974, he was a young man with a dream to work with his hands and create dwellings both functionally and aesthetically perfect. He is still that man, but on a scale that grew steadily from his vision. Today, Skip holds the highest construction license available to a Florida builder. Every day, he still greets each project with an insatiable desire for perfection.
Sheffield Construction Company is accredited by the following professional organizations: